Research on Policy/Strategy Formulation on Sport and Development
| | |
| --- | --- |
| ■Sector | : Sport and Development |
| ■Type of technical service | : Information Collection and Support for Activity Implementation |
| ■Duration | : September 2017 – March 2022 |
---
Background of the Project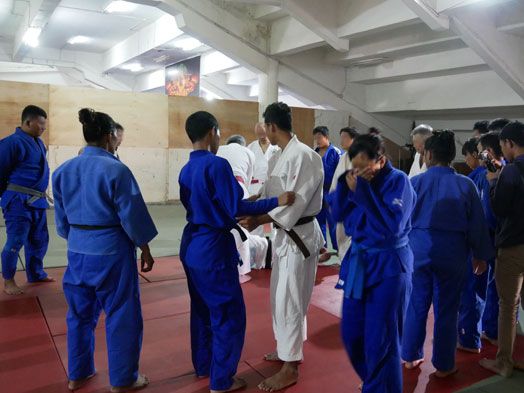 Two judo coaches from Kodokan provides technical advices to blind judo athletes in Indonesia
The International Charter of Physical Education and Sport (1978) and The International Charter of Physical Education, Physical Activity and Sport (2015), both prepared by the United Nations Educational, Scientific and Cultural Organization (UNESCO), clearly state in Article 1 that the practice of sport is a fundamental right for all. The Basic Act on Sport (2011) of Japan also articulates that sport is a universally shared human culture, and further elaborates the value and significance of sport and the importance of roles that sport plays.
JICA has been implementing international cooperation activities through sport, mainly by Japan Overseas Cooperation Volunteers and JICA's senior volunteers conducting numerous activities in physical education at schools and promotion of various sport activities, which has a certain impact in many countries. The Tokyo Olympic and Paralympic Games will be held in 2020, which have prompted a growing tendency to promote activities for "Sport and Development" more than ever.
With this background, JICA sets sport as one of the priority issues in the 4th Medium-term Plan (April 2017 – March 2022). Approaches and methodologies adopted in the "Sport and Development" projects were reviewed to formulate a more concrete policy/strategy, and the policy/strategy is being promoted through collaboration with various sport organizations.
---
Main Activities
Main activities are as below in a four-and-a-half-year project period.
[Activity 1] Support for formulation of JICA's policy/strategy for "Sport and Development"
In order to formulate JICA's policy/strategy for "Sport and Development", analyses were made on JICA activities and experiences regarding "Sport and Development", as well as policies and activities of international and domestic sport organizations. Based on the analysis, seven types of approaches that JICA should pursue were clarified, and some of these approaches were combined to identify three priority fields. Currently, framework of this policy/strategy is being summarized in presentation materials, and an inventory is being developed to showcase JICA activities and experiences. These are prepared to actively publicize the policy/strategy to both international and domestic stakeholders. The policy/strategy will be revised continuously with updated information until the end of the Olympic and Paralympic Games Tokyo 2020. In addition, JICA's relevant projects, both on-going and already completed, were reviewed to evaluate their impacts and significance and to extract lessons learned, which will lead to sport project formulation in future.
[Activity 2] Support for management of meetings on "Sport and Development"
One of the keys for good project management is information sharing and cooperation among relevant departments within JICA and external organizations, however no department is centralized to manage projects for "Sport and Development" in JICA currently. Our project therefore plays a role in supporting various coordination among concerned departments within JICA and management of meetings with external organizations such as Japan Sports Agency and the Tokyo Organising Committee of the Olympic and Paralympic Games.
[Activity 3] Dispatch / Invitation of sport key persons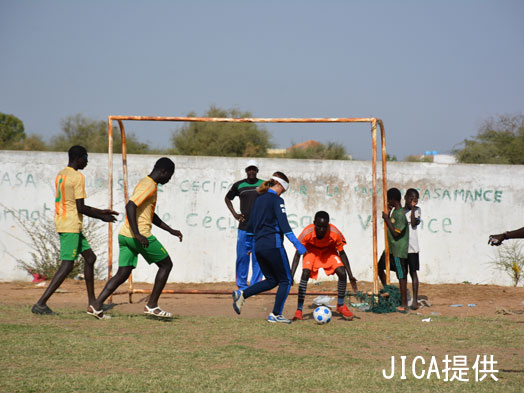 A female blind football (soccer) player of Japan's national team demonstrates games in Senegal
In order to encourage participation in the Olympic and Paralympic Games Tokyo 2020, and to gain in developing countries popularity of various types of sport, including disabled sports and sports that anybody can enjoy (so-called "universal sports" and "adaptive/adapted sports"), domestic sports key persons are dispatched to overseas and foreign sports key persons are invited to Japan. Two activities below have been implemented so far.
① Two blind judo coaches were dispatched to Indonesia, and some blind judo athletes and associates were invited to Japan from Indonesia and Peru, through cooperation with Kodokan Judo Institute and Japan Blind Judo Federation.
② A blind football (soccer) athlete and an associate were dispatched to Senegal, through cooperation with Japan Blind Football Association.
---
Basic Principles
Our project bears in mind two basic principles below to promote "Sport and Development" at JICA.
"Visualize potential of sport"
JICA's activities on sport have been, in many cases, relying on hands-on experiences in the field, without appropriately systematized development, implementation and evaluation of the activities. Now, our project reorganizes concepts of and approaches to "Sport and Development" systematically, based upon which the activities on sport are evaluated to measure their impacts and achievements. Three pillars (*1) stipulated in JICA's policy/strategy for "Sport and Development" provide key index for the evaluation.
"Contribute to realize a society that people with various background and stand-points respect each other to co-exist, through enhancement of competitiveness in disabled athletes and of participation in sport activities by disabled people"
Activity 3 "dispatch / invitation of sport key persons" develops and manages various projects aiming at contributing to realize a society that the non-handicapped understands and accepts disabilities to co-exist with the handicapped, through enhancing competitiveness in disabled athletes (particularly for Tokyo Paralympic) and promoting participation in sport activities by disabled people.
(as of February 2021)
------------
(*1) Three pillars of JICA's policy for "Sport and Development" are as follows;
① Promoting health and improving non-cognitive abilities through support for physical education in school and extracurricular activities
② Promotion of social inclusion of everyone and promotion of peace through participation in sports
③ Strengthening national cohesion and promoting solidarity with the international community through improvements in sports skills (particularly international competition support) and environmental improvement.
| | | |
| --- | --- | --- |
| | | |
| Many blind judo athletes were invited to the Tokyo International Judo Championships for the Blind and Partially Sighted to attend opening ceremony | Prior to the Championships, the athletes were invited to a joint training camp | Japan's national team of female blind football (soccer) joined a diversity education experience program at some primary schools in Senegal |
---
A Message from the Consultant in-charge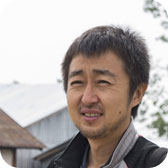 Shigenobu HANDA
Director, Consulting Department
Some people may think that sport is a fight just to determine winners and losers, or that playing sport is to pursue nothing but improvement in skill. Considering that sport covers physical exercises or just playing, or that sport is not only for players but also supporters and spectators, anybody can join in any form. Sport has wider positive impacts on people, such as health promotion and enhancement of so-called non-cognitive ability, which includes patience, social nature, respect, self-esteem and self-encouragement. The practice of sport in many ways is a fundamental right for all, but appropriate environment for that is not available in many countries in the world. "Sport and Development" has not attracted good attention in the development context so far, but the potential of "Sport and Development" needs to be re-evaluated and incorporated in international development activities by giving stimulus from a new angle.